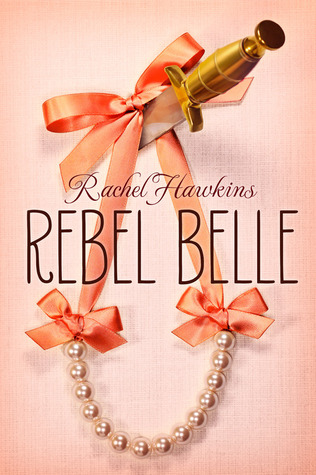 Rebel Belle

by Rachel Hawkins
4 stars out of 5
Harper Price has the perfect life: she's homecoming queen, class president, top of the social scene and standing at the head of the line for cotillion. All of that goes to hell, however, when she encounters a dying man in the bathroom on homecoming night. The fatally wounded janitor grabs Harper and kisses her passing on his role as a Paladin - a supernatural and ancient warrior/protector. Mr. Janitor, however, dies without telling Harper who she's supposed to protect. That's okay though because two seconds later her history teacher bursts into the bathroom and tries to turn Harper into a shish-kabob. Harper fights back with her new-found fighting skills and kills the evil history teacher with her pointy high heel. And so begins Harper's mad, crazy, hilarious and oddly appealing story. This book is like
Legally Blonde
meets
Buffy, The Vampire Slayer
with a dose of
Gone With the Wind
thrown in.
Southern Belles kicking ass doesn't get much better as a plot summary, but it fits. I was giggling so many times throughout this book. It's not a heavy, weighty read. But it's irresistible none-the-less, a pleasant cotton-candy read to while away a rainy afternoon and make you smile. Rachel Hawkins writes engaging, memorable characters and has a turn of phrase that makes me envious as a writer.
There is, of course, the inevitable love triangle. Can a YA book that involves any amount of romance be published today WITHOUT a love triangle? Sometimes it doesn't seem like it. The love triangle was my least favorite part of the novel alas. Ryan, Harper's long-time boyfriend, is the school golden boy and Mr. Perfect. On the other side of the ring we've got David Stark - editor of the school newspaper, muckraker, general social misfit and Harper's arch nemesis since the were in diapers. At least David isn't your typical bad-boy - he falls into the same over-achiever mold as Harper. It's nice having two protagonists that are total type-A's and obsessed with school. David is the boy Harper has to protect as a Paladin, whether she wants to or not. And because of that and having to be around him so much, she suddenly discovers he's fascinating and she has feelings for him. Poor Ryan, he gets tossed aside like a used tissue.
The shining star in this book is Harper and her narration. They really make the book despite the love/hate and love triangle tropes. The pace if the novel is fast and furious with the occasional slow-down for a sweet little aside. So many lush details and funny bits and even though I want to smack Harper and David's heads together far too frequently, I still really enjoyed the book overall and will read the sequel. This is the first in a series.
Rebel Belle
will appeal to fans of
Beauty Queens
by Libba Bray and
Unspoken
by Sarah Rees Brennan.
Favorite line: "Bruce Wayne's parents get killed and he goes to Tibet or whatever, and Superman is an alien, and Spiderman had that radioactive spider. Me? I kissed a janitor in the school bathroom."
Find it on Goodreads >>